Montgomery Woods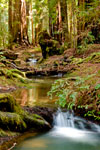 Montgomery Woods is one of my favorite places. Almost in my backyard, this gem of a park is close enough for a day trip. An excellent spot for a gentle hike and picnic in one of the oldest redwood groves in California. The Spiritual ambience of this place is overwhelming as you are overcome with awe, dwarfed by giant trees. The silky Montgomery Creek babbles over gentle falls as it meanders through the groves. Enjoy this gallery!
Wine Country
I am fortunate, almost blessed, to live in the Sonoma Wine Country. The Weather and lifestyle is virtually the best California has to offer. The gentle beauty of the rolling vineyards paint the hills with their colors in every Season. It's a photographer's paradise! Spring is for Mustard. In Summer the precious grapes mature. Fall is for Harvest and Fall Color. Yes! Awesome Fall Colors in California! Enjoy this gallery!
Sierra Fall Color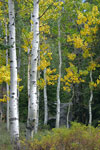 Some of the most beautiful Fall Colors in California can be found along the higher elevations of Highway 88. From Silver lake, over Carson Pass and into Hope Valley. The yellow Quaking Aspen light-up the countryside. Every crevice and fold seem to be painted yellow. Such an awesome display. This is one of my annual adventures as the prominance of color varies from year to year. Enjoy my Sierra Fall Color gallery!
Southwest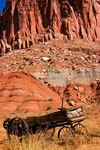 The American Southwest is some of the most Spiritual and beautiful scenery I have ever seen. This awesome area was said to be a vast wasteland of Desert landscape barren of vegetation and suitable only for savages! In the Fall of 2005 I had the great pleasure to spend 10 days with my brother, Stephan, photogarphing this Spiritual landscape. This short time barely scratched the surface, yet I yearn to go back and spend as see so many places not yet visited. Enjoy my Southwest Galleries.