Photography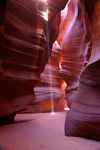 Photographing the Western Landscape is virtually an endless array of photographic adventures. I carry a camera almost everywhere I go. There are oportunities everywhere. My favorite photographic adventures are those that are well planned out ahead. Photography becomes almost as exciting as a hunt and becomes a Sport. I have organized my galleries into themes. I like to photograph throughout the year and have favorite destinations in every Season.
Fine Art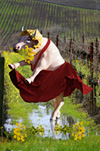 Art is my passion and my Fine Art Gallery is a portfolio of my Digital Paintings. I am an artist utilizing many art forms, both in solid media and digital. I am well versed in Adobe Photoshop and Illustrator and I have created many paintings that are unique, one-of-a-kind, masterpieces. I have a keen sense of humor and it sometimes shows in my artwork. All of these creations are entirely my own using my own images and captions.
Services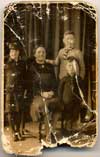 Several Services are, or soon will be, available. Graphic Design items include brochure, wine label and business card design. I am very excited about image restoration. Given even the most delicate old photograph, it is possible to restore it to a viewable image. Perhaps you are gathering together a series of old photographs for that special birthday, reunion or other affair. My restoration sevrvice may just be the answer. Other Services will include Photographic Workshops to some of my favorite places. Photoshop, InDesign, Dreamweaver tutorials, Even advice on computer repair.
Products

There are a variety of products available. Any of my images in my galleries are available printed and framed, in the sizes listed in my catalog pages. Custom sizes can be arranged. All of my images are also available as Notecards. My Notecards are my most popular items. Potential future products may include CDs and DVDs of Images in web or print resolutions. PDF tutorials as well as brochures and other designs are also planned