Contact and Information
About the Artist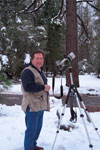 Wolf Dietrich is a passionate Photographer, Designer and Artist who derives inspiration from the world around him. Being fortunate to live in the beautiful Sonoma Wine Country, he finds inspiration in every Season. Spring Mustards are also among his favorite subjects. His sense of humor and love for Photoshop spur many unique digital paintings and are among his favorite works. Greatly inspired by his father who was an engineer by trade, yet a passionate photographer and artist, who derived great satisfaction painting Bavarian and Alpine Landscapes as well as Photography. Inspired by his Father's vision, Wolf tries to compose every image as a painting.
The image to the right is Wolf photographing the phenomenal Horsetail Falls in late Febraury at Sunset. A very cold. but rewarding experience. The horsetail falls image and experience can be found on my Phenomenal Photography pages.
About this Site
This site is the portfolio and Gallery of Wolf Dietrich. All of the photography, design and content for this site was created by Wolf Dietrich. None of the images or any of the content may be copied without the permission of Wolf Dietrich. If any of the images, products or content is desired plaes see my contact information on the next tab below.
Very soon, after I include more of my images, I plan to write a dynamic order form. Until then please use my email or phone to contact me in regard to any image or any of the content of this site.
How to Contact Wolf Dietrich
The best way to contact Wolf is by email.
Wolf Dietrich Photography and Design is a subsidiary of the W.F.Dietrich Company. The Business address and phone numbers are:

The W.F.Dietrich Company
P.O. Box 282
Healdsburg, CA 95448
(707) 433-0756 (Phone and Fax)
Accomplishments
My love for photography and design has brought me a few very fortunate accomplishments.
In the January/Febraury 2005 issue of Photoshop User Magazine, my "Vinecar" and "IllBee" images were published.
In the November/December 2005 issue of Sierra Heritage Magazine several of my Sierra Wildflower images were published.
In April 2006, my "Hot Honey Mustard" image won the KVYN radio station mustard photo contest.
In July 2008, my Black and White image of "Bodie Car" won 3rd place at the Sonoma County Fair.
In April 2009, my "Geometric Mustard" image won the Silverado category of the Napa Valley mustard Festival Photo Contest.