Image Restoration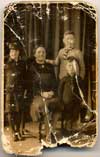 Perhaps you are assembling family or heirloom photographs for a special occasion such as a Birthday, Wedding Anniversary or any Special Event. Family members send you photographs and you have a handful of discolored and sometimes damaged images. No worries! These images can be restored to beautiful condition and in most cases at a very reasonable cost. In most cases because some images that are severaly damaged may require allot of time and some may not be restorable.
The best way is to contact me by email.
Graphic Art Services
Graphic Art Sevices includes logo design, brochure and business card design, small booklets and catalog design. Perhaps you are looking for a new eye-catching logo, a label for your Pinot, a brochure or anouncement to advertise an event, special attraction or even a graduation.
The best way is to contact me by email.
Web Services
My web related services include web-authoring, advice and maintainance. If you like the flow and design of this site, and have the need for a site of your own, you may consider my services. I try to stay in-touch with thenewest techniques. I will soon furnish links to my previous sites and related material.
The best way is to contact me by email.
Photographic Services
My photographic services include photography of marketing, products, events, celebrations and portraits. In the future I will be able to conduct photographic workshops to some of my favorite places. If you like my images you may be interested in one of my workshops. I enjoy working with individuals or small groups to share my knowledge.
The best way is to contact me by email.