Capitol Reef National Monument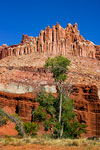 Capitol Reef National Monument is virtually in the heart of Utah. An awesome, 100 mile long bulge in the Earth's crust with erosion carved domes, monoliths, hoodoos and spires of Navajo sandstone and ash flows. Populated for centuries only by native Americans. The earliest left petroglyphs carved onto the sandstone cliffs. Mormons established one of their earliest settlements here. An orchard still producing a crop today, and several buildings remain. Near Torrey, Utah, some of the majestic fluted mountains appear as mighty, or Capitol, as some ancient monuments. Enjoy this gallery.
Upper Antelope Canyon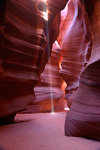 Upper Antelope Canyon is a slot-canyon near Page Arizona. It lies on Navajo land and one must tour there with a Native American guide. The guides are actually quite knowledgeable and are there both to protect and inform you and also to protect their sacred ground. There are many slot-canyons in the Colorado plateau, yet this place is one of the most amazing. In the largest opening, or Cathedral Chamber, a shaft of light will beam down from the sun high above. If you are fortunate, you will see this Spiritual Phenomenon. You can also check out my "Phenomenal Photography" project. Enjoy this Gallery!
Grand Canyon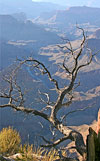 The Grand Canyon is probaly the most spectacular or phenomenal of the water-carved canyons of the Colorado Plateau. The park includes over a million acres of land. There is simply no other place on earth quite like it. We explored only a very small section, the West Rim Trail. It was so breathtakingly beautiful that I long to go back and spend a week exploring the famous North Rim and perhaps even venturing to the bottom. To stand at the edge of the Grand Canyon is truly an experience you will never forget! Enjoy this gallery of images from the Grand Canyon!
Grand Staircase-Escalante National Monument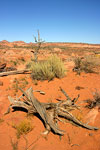 The Grand Staircase-Escalante National Monument is one of Americas newest Parks. Established during the Clinton Administration, this area was set aside to guard from further mining and other human deterioration. This vast area is a high, rugged and remote region of spectacular rock formations. It was actually the last place in the contienental United States to be mapped. Our adventure into this arid landscape was a 26.5 mile drive, due South from Highway 12 in the Center of Utah, on "Hole-in-the-rock" Road. We were on an adventure searching for Slot-Canyons. Enjoy this Gallery!