Wine Country Color 18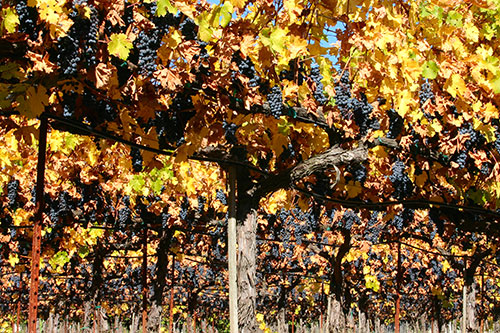 Wine Country Color_18 ©2009,wolf dietrich
Fall in the Wine Country is a very special time. The hustle and bustle of "The Crush" is at full steam as the grape leaves display their awesome color. This is one of my favorite images as it captures the essence of Fall Color.
My favorite lighting in which to capture this amazing color is in the late afternoon. The Western Sun adds a glow to the already brilliant leaves. Backlit by the Sun, these leaves appear translucent and fragile. This image is taken along Dry Creek Road in Healdsbyrg during the sfternoon magic hour. The vines and hills are aglow in the afternoon sun. The grapes are ready for harvest.
Printed at 12 x 18 inches, and matted and framed to 18 x 24 inches, this image is truly a wonderful capture of this beautiful scene.