Horsetail Falls
The Lore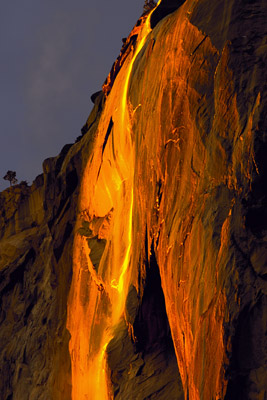 Horsetail Falls in Yosemite National Park is one of those little-noticed waterfalls that flows only when a small reservoir fills with melting snow, high atop the Eastern shoulder of El Capitan. This small and narrow waterfall is whisped, like a horsetail, away from the face of the cliff by the westerly winds wafting out of Yosemite Valley. In late Febraury, as the yellow-orange glow of the setting Sun shines briefly into Yosemite Valley, it sometimes catches the little waterfall and it glows orange like a Firefall. This phenomenon was made famous by Galen Rowell in his "Natural Firefall" image. Ansel Adams had also photographed the event, however a Black and White image of this incredible event just do not do it justice! The lore is that Galen Rowell saw this phenomenon as he was driving into the Valley at Sunset. He almost wrecked his car as he quickly pulled over to capture just one incredible image. This very lucky capture seems to go against all of the planning and preparation of Phenomenal Photography, however, it is always imoprtant to keep your eyes open. Since then, scores of Photographers try to capture this event every Febraury. It does not happen every year and it is funny to see dissapointed Photographers pack up their tripods and huff-off, only to miss the display of color. Patience is a virtue.
Facts and Location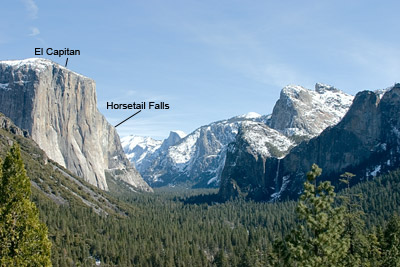 Location: Yosemite Village, Yosemite National Park, Mariposa County
Height: ~1500 ft.
Access: car dog
Elevation: 4000 ft.
Season: Feb
Difficulty: easy hike
Lat/Long:37.73008, -119.63679
Directions: On Northside Drive, drive east from Yosemite Lodge 2.5 miles to a picnic area on the right. Park in the picnic area and look up to see the falls.
Research and Gearing-Up
The best way to study Horsetail Falls is on the Internet. Look it up on Google. You will find many listings and even notice that there is another Fall with the same name in Lake Tahoe. Search the images and look at the work of other photographers. This event happens in late February and it is imparative to dress for the cold Winter environment. After the Sun sets it gets very cold. You will be standing in the snow for a couple of hours, due to the multitude of photographers trying to capture the same image you are. You need to get there in plenty of thime to stake out your spot. It is also a real good idea to go with a friend so that one of you can go to the car and get food, drinks gloves, etc.
This is the equipment I take to this event:

Digital SLR (Canon 40D)
Medium Telephoto Lens (70-200mm)
Sturdy Tripod
Cable Shutter Release
Bubble Level
Warm Jacket, Hat and Gloves
The Prize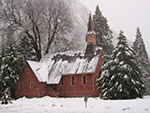 The awesome image above is my Prize. I have captured this phenemonon on February 24th of 2007. The day before the capture there were clouds obscurring the Sunset. The day after it snowed a blizzard. I actually went back to Yosemite the following weekend with my brother and it was almost too late. The Sun had already shifted and the glow was almost not on the Waterfall. It snowed so heavily that night and all the next day. The image to the right shows the Chapel in Yosemite Valley on February 25th, 2007.